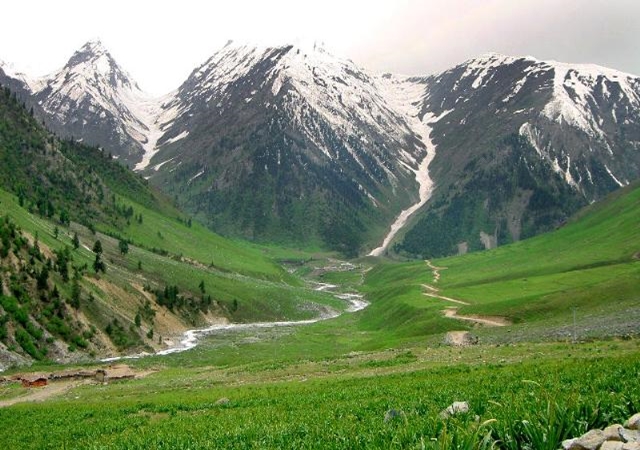 Neelum valley is one of the beautiful places of Azad Kashmir and it's named after the river which has curves like snake and has blue color. It is also called as the "PARASIDE OF KASHMIR". There is a contradiction that this valley was named after a precious stone called Neelum. Neelum Valley is located in the Kashmir Region and to the North & the North East of Muzaffarabad and running parallel to the Kaghan Valley. It is different from it by snowstorm covered mountain which are 4000 meters higher than the ocean level. It contains about 370 large and small villages. It mostly contains hills and mountains with great valleys. The valley has thick forest, streams and rivers. This valley is dipped in most amazing beauty and attracts lots of tourists from within the country and other foreign countries as well. The valley can be approached from two different points. One from Kaghan Valley and the other is Noori Top. Besides these two it has many minor passes as well.
The district of Neelum valley starts 43 km from Muzaffarabad. The area is also famous for its mineral mines from that particular locality mineral are being tranposrted to other cities of Pakistan. In addition to that there is also LOC (LINE OF CONTROL) where relatives can cross the bridge and can meet their relatives on the other side of the bridge twice a month. There is a tourist seventeen century fort built by the town's founder, a chief of the Chak tribe named Muzaffar Khan, to ward off the Mughal armies of Emperor Akbar.
This land also has many local fruits which are of great taste including Apples, Apricots, Walnuts and Plums which are famous. A large number of tourists visit it in summers. The whole valley gives fascinating and beautiful scenery. There is also a mountain "SARWALI" (6326 meters) which is one of the highest mountains in Azad Kashmir. The valley include lush green forests and high altitude lakes makes the surrounding heavenly and it is like a dream come true for the people who visit it. The snow capped mountains and the fast flowing Neelum river all make us believe that we are in some part of Switzerland. Many of the tourists who are interested in mountain tourism also come and enjoy here. The river is also famous for its fishing and it has Trout fish in abundance.
Some of its famous places like Shounter Pass, Chita Khata, Ratti Gali, Baboon, Noori Top, Sharda, Kel, Surgon and many more are mentioned by famous tourists like Mustansar Hussain Tararr etc. Tararr even wrote a travelogue on after visiting there. The three rivers present in this area are Jhelum, Neelum and Poonch.
The people of districts Kotli,Mirpur & Bhimber, are simple, truthful and deeply attached to their land. The culture of this area resembles to that of the adjoining area of Punjab. People here mostly follow the culture which quite resemble to that of Punjab.
While the district of Muzaffarabad has its own distinctive culture. The people are intelligent, hard working and are skillful. As it is the capital of AJK so it quite established and people here are educated and sophisticated when you compare with the other areas of the neelum valley.
Some of the important areas of the valley include:
Kutton and Jagran
 It is situated in the lower part of Neelum valley, Jagran Nullah (stream) plays pivotal role in the formation of its landscape beauty and charm which reveals the richness of the area. For the convenience of tourists, AJK tourism Department has constructed a rest house here. A mega hydro electric project is installed here that produce electricity to the state.  A long a beautiful series of Himalayas mountain starts from here to Kaghan, Skardu and Chillas.
Authmuqam
This valley town is very unique in its beauty with respect to the other places we had yet visited, it is also significant as it marks the beginning of control line with Indian Held Kashmir in Neelum. It is named Authmuqam because it is 8th station from Muzaffarabad to upper valley. Most people are government employees, rest are in different fields.From here upwards emerges typical Kashmiri living pattern with houses built of wooden logs, most of them double storied.. Hiking tracks for surrounding mountains are traced by peoples and tourists.
Sharda
Sharda is one of the most beautiful places with its lush green planes, smooth flowing river which frozes in sever cold season and serves as passage for people of both sides of the river. This place from the point of view of tourists is so attractive and they get their money's worth when they spend a few days here. In Sharda one also finds ruins of an old place of learning. There are also ruins present there which might be interesting for people doing historical research there. Also there are signs of an old university and was the center of knowledge for the people of China, East and Central Asia.
Kel
It is also one of the attractive places of the valley neelum. One of the fact is the there is a long track goes towards Nanga Parbat. People can actually see this Nanga Parbat mountain from there and it is a beautiful sight for everyone who visit it.
Dressing
Men of these valleys wear normal Shalwar Kameez and so does the women. The men mostly wear a weskit because in summers also the weather there is pleasant and cool and when we talk about winters the sweaters and the normal jackets comes into play. Women also wear the Shalwar Kameez and you won't see a single lady wearing a tight jeans or t-shirt. Women of these valley like to cover their faces aswell and mostly all of them wear a Burka or if not this than cover themselves with duppata and hence the
 Language
The official language which is spoken in this valley is Urdu because it can be understood by mostly anyone in the valley so that's the sole reason for it. The local mix of people including Kashmiris speaks their own local languages Kashmiri or Pahari or Hindko. The few of the people living there also follow Punjabi and Pashto aswell because some Punjabi's and Pathan's are also doing their business in the valley.
Handicrafts
People of this valley make good handicrafts aswell which include Carpet, Namda, Gubba. They are also famous for their Silk Woolen Clothing. People also make Woolen shawls. Besides all these they are also good at Wood Carving and in making Rugs
Local dishes

The area is famous for its dishes like Gushtaba. The Kashmiri people love this food and are their most favorite. People eat rice a lot. They don't consider a luch or a meal with not having rice. Tabak Maaz is also quite eaten in this valley and  the preparation of which is considered an art and a point of pride in Kashmiri culture.
 The valley is no doubt a great place to visit specially with frends and family and in that way can enjoy the beautiful places and the nature aswell as can enjoy the local dishes and the fruits that can be found there. It can be a really good summer outing location where one can spend his vacations to relax and enjoy the wild thick forest and in that way being close to the nature.