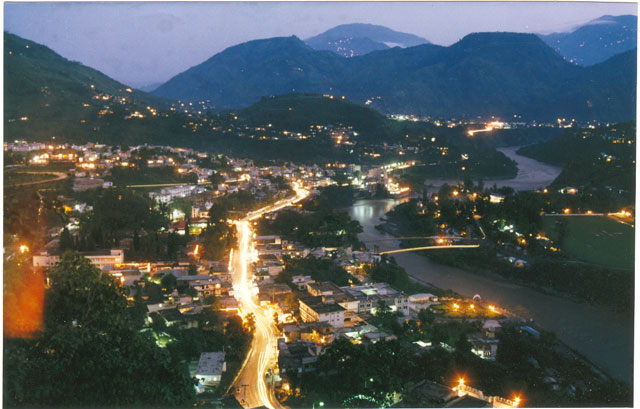 Muzaffarabad is the capital of Azad Jammu and Kashmir, comprising of hilly area, located at the bank of Neelum and Jhelum rivers. It offers breathtaking views of the Tarai Mountains the foothills of Himalaya and also has the 5 star hotel pearl continental. Striking scenic beauty and pollution free atmosphere occupies every part of the city. However, the roads are not yet well-constructed. The name "Muzaffarabad" comes from the name of Sultan Muzaffar Khan, a former ruler of the Bomba Dynasty.
It was going towards development to a large extent however; the 8th October 2005's (earthquake) tragedy destroyed almost 50% of the city hence, leading it backwards in terms of development.
The culture of Muzaffarabad has many similarities to that of northern Punjabi's culture. It has always been one of the important cities of Kashmir showcasing conflate of various cultures and languages.
 People:
People of Muzaffarabad are full of talent and are generally considered as friendly and cultured. The culture also enjoys diversity because people from other areas also transfer here in their jobs or for other purposes. However, different practices are followed here.
Education; Very few people are provided with education. This is due to a number of reasons; they are conservative minded as compared to Islamabadians and other comparatively developed areas so they do not allow their women to cross the boundaries of their houses to get education or jobs. Most of the women of this city don't even get the primary education so the literacy rate of the city is very low. Other than that there is very little awareness for the importance of education which make them consider it an unnecessary thing.
Religion is deep rooted in this city. Most of the people found here are either sunnis or shias. People practice Islam and are very punctual in offering prayers. Mosques as well as darbaars are alos found here. Other than this holy places of shias are also constructed in different areas of the city.
Hospitality; They are bound together with each other and a tradition of get-togethers among the families (specially the relatives) is very common. Moreover, they are very kind hearted and hospitable. They are very welcoming towards guests and provide them with best of time. Obesity is very common in this city because they are very fond of eating plenty of food.
Only one big and main market named "Madina Market" is found in the city which provides the people with all their necessities.
 Language:
Kashmiri is the prominent language of this city. Other than Kashmiri people also speak urdu, Shina, Balti, Potohari and Pahari there.
 Food:
Muzaffarabadians are famous for cooking a variety of food items. There is a trend of heavy intake of food which makes these people highly obese.
Whole Meals; The famous cuisines among the people of this city are Gushtabay, Bakar-khani, red beans (Daal), dam aloo, Balti gosht, Yakhni, Daal Makhni, methi gosht, methi chawal, hareesa, baraista bat, palak paneer, Chicken Korma, kulcha and many more. Use of dry fruits is very common; especially in curries. Women like to cook a lot of food so they prefer making even the very necessary items like desi ghee, ketchup, achaar and many more themselves. Kashmiri Pulao is also very famous there.
Sweet Dishes; Sweet dishes are considered a mandatory part of the meal. They are served at the end of the meal. Popular lip smacking sweet dishes are firni, kheer, Panjeeri, sviyaan and many more.
Drinks; They are very fond of drinking tea. The most liked drink there is Kashmiri Tea (also known as Pink Tea) and Green Tea. The combination of Pink tea and Bakarkhani is very common for breakfast.
 Clothing:
Both men and women wear very traditional dresses like Shalwar Kameez; however, the some women also wear Phairan (a traditional kashmiri dress) in addition to Shalwar kameez. The use of Kashmiri Shawls, to cover their heads, among women is very common in the city. Moreover, the use of Kashmiri embroidery on dresses is also very prominent practice noted among the people. Boys also wear pants and shirts.
 Art:
The people of Muzaffarabad are very skilled and have expertise in a number of fields. There talent is popular all around the country and people visit Muzaffarabad to purchase these items from different cities of Pakistan.  There are various famous things from this area;
Hand woven carpets are one of them. People of Muzaffarabad are very good at making these carpets. Ghubba (bigger rugs) and namda (smaller rugs), embroided woolen chatai (rug), are made here.
Manufacturing Kashmiri Shawls; either embroided or without embroidery is also a very famous art found here. They are mostly made up of very soft material and are very warm.
Kashmiri Phairan which is also a traditional dress people wear in this area. These are long loose fitted shirts, either long or short, with or without Kashmiri embroidery, are produced by the talented people of this area.
Kashmiri embroidery which may include different patterns of flowers, leaves, various shapes (triangles, circles, squares etc), and permutations made up of thick thread work which is very elegant are formulated here. These combinations are used mostly using light colored threads which enhances its softness and delicacy.
Kangri is a pot which is made up of two parts. The outer part is an encasement of wicker whereas; the inner part is an earthen bowl shaped kondul which is to be filled with charcoal. This is actually used to warm up during winters. It may be placed under a blanket or the phairan etc.
 Other than this wood carving; these are produced from walnut wood and are long lasting and reliable (hard) wood which is used in making furniture.
Kashikari; which is mosaic work that can be decorative, functional or both.
 Climate:
Muzaffarabad enjoys all four seasons but it is comparatively colder in summers and winters as compared to Islamabad.
 Tourism:
Muzaffarabad being the capital of Azad Jammu and Kashmir has the beauty worth watching. Occupied in the middle of mountains, this attractive city could attract the tourists from different countries. But unfortunately its tourism is not yet well established and needs to be promoted.
 Conclusion:
Muzaffarabad is a beautiful city and is full of all kinds of necessities and skills which differentiate it from other cities of the country.