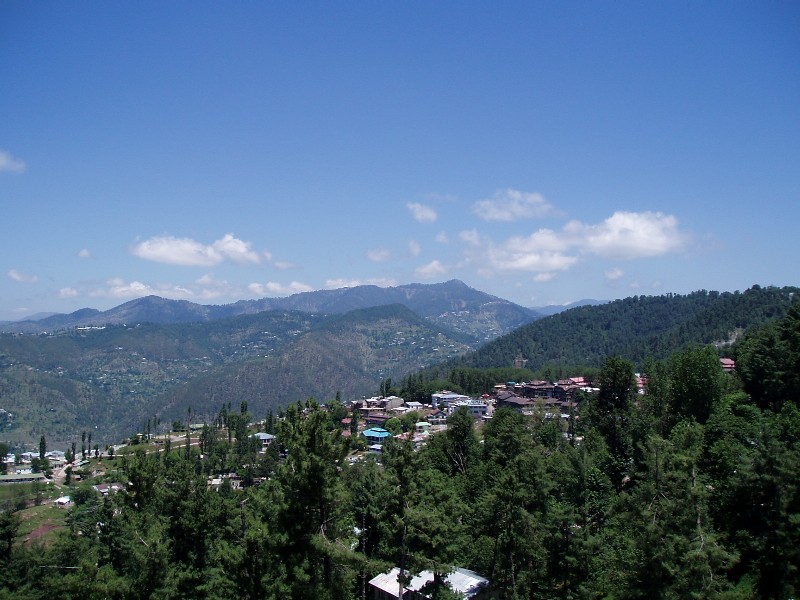 Murree the most popular hill station and summer resort in the country, is a tehsil of district Rawalpindi. It is been visited by tourists all around the year either to enjoy the cool summers or the snowy winters. Besides scenic beauty, pleasant weather, mesmerizing greenery, and wild life, one of the reason of its popularity as a vacation spot is its easy accessibility from the vicinity of Rawalpindi/Islamabad (only 1 hour drive) and from Punjab plains. It can be accessed by two routes. One is the 2 lane old route Rawalpindi-Srinagar Highway. The other is Islamabad-Muzaffarabad 4 lane Expressway which was opened in 2008 till upper toppa. It is a more comfortable route compared to the jam-packed and broken old route. You will see stalls of shawls, rugs, umbrellas, fruits, calligraphy Paintings and stuff like that around every corner alongside the road. The locally grown fruits are strawberries, Cherries, apricots, Peaches, apples and Lauqat.
Geography
Tehsil Murree was created in 1850 when that region was transferred from Hazara District to Rawalpindi and at that time Britishers had the occupancy of this area. The British initially built their sanitorium for troops and for the years to come they use it as a summer capital. That is the reason that the city is built in European style with a Church in the center and commercial areas alongside a Main road (the Mall). At the time of inception it consisted of 5 major areas Ilakas but with the passage of time there were many territorial changes in the region. Currently it is divided into 15 union councils and cantonment areas and cover the area of 434 sq Km. The union councils include Murree city, Angoori, Charhan, Daryagali, Dewal, Ghel, Ghoragali, Mosyari, Nambal, Phagwari, Potha Sharif, Rawat, Sehrbagla, and Tret. Another geographic importance of tehsil Murree is that it links the Punjab plains to the Abbottabad and Azad Kashmir.
Urban Living
Urban population lives in the region of Murree City and two cantonments. Permanent urban residents are very few. Most of the urban regions have rest houses of government and private corporations and summer homes of elite of Pakistan. There are also headquarters of different divisions of Pak Army and different training institutes. A military hospital is at the center of the city to meet the needs of locals. There's an air force base as well situated in the Lower toppa. There are poultry farms of major poultry companies of the country (Islamabad Feeds and SB chicks) scattered around the region. Other important commercial institutions are , the Post Office, general merchants, tailors and millinery. Murree Brewery was founded in 1860 at Ghora Gali to cater to the drinking needs of the British.
Rural Living
Around 88% is the rural population living in small villages spread over all the hilltops of Murree. The villagers have easy accessibility to the local bazaars, primary & secondary schools, and clinics. However water supply to the households of villages has always been an issue. The well off families of the village had bored for water for their personal use as well as for the other villagers. Women of the neighborhood carry water to their homes in water pitchers commonly known as Gaager and water cans. Migration rate from those villages has been increased manifolds in the recent past. People are migrating mostly to meet the higher education need of their children, for new job opportunities, the lack of other necessities like tap water, gas connection, door to door roads. Major chunk of these people migrate towards the low rent colonies of Rawalpindi. The well off families have been living in the elite areas of twin cities from last 2-3 generations. They have their established businesses in the plains of Punjab. Some of them still spent their summer vacations in their home towns.
People and Culture
Murree has a population of 176426 people (1998 census). The increase in population rate is considerably lower as compared to the other regions of the country. One of the reason is the migration to the twin cities and other major cities of Punjab, and secondly because there were many territorial changes like separation of Kotli Sattian from Murree tehsil. People of Murree are famous for their hospitality. Shops and other commercial areas are normally closed at the evening time and are opened early in morning. The most common profession use to be agriculture (farming and livestock) . In the past most of families use to have their own livestock to meet their dairy and poultry needs and to earn a living out of it as well. Now very few people maintain livestock for personal use or for a source of earning. Because people are switching towards different other professions like teaching. Most of the population in rural areas are Abbasis, the generation of Prophet Muhammad's uncle Hazrat Abbas. Other prominent tribes include Satti, Kethwal, Danials, and Kianis.
Weather
Weather is a source of income for the economy of Murree. Spring in Murree starts in March with heavy rain and hail storms and ends in May. Summer spans from middle of May to August.  The lowest temperature during this season is between 13 and 16 while highest temperature is between 20 and 25. It is the most crowded season as it brings most number of tourists. Autumn starts with September and winter with December. Winter brings heavy snowfall and temperature lies around freezing point.
Tourist Attractions: The famous tourist destinations are Mall road, Kashmir point, Pindi point, Patriata, and Bhurban.
Mall road is the busiest place having number of shops and restaurants. It has all variety of food from typical desi to fast food chains like KFC. Other shops are mostly of handicrafts representing rich cultural heritage
Kashmir Point place is on 15 minutes walk from the post office. It gives a clear and beautiful view of the mountains of Kashmir. It also have a bazaar with different shops and food stalls.
Pindi Point is on 15 minutes walk from the mall road and gives a splendid view of the pindi city. It has a café and kids area as well. Patriata hills can also be seen from this point. From here, one can enjoy ride on a Chairlift down to Bansragalli.
Patriata has resorts constructed by PTDC 1987. A major attraction is the 3 Km Chairlift\Cable car ride down the hill of patriata.
Bhurban with five star Pearl Continental Hotel owned by Pakistan's best hotel chain and a nine hole Golf course has surfaced recently as another tourist attraction in Murree area
Language
The Dialect spoken in Murree is locally known as Pahari and it is very much similar to the dialects Potohari and Hinko spoken in some regions of Rawalpindi and Hazara.
Education
Literacy rate of 69 % make Murree one of the most literate area of the country. Village Ausia has a booming rate of 82% and is the most literate rural area of Pakistan. Considering the fact that major population chunk (87.8%) belong to the rural segment, such high literacy rate is quite an achievement. Some of it is because of the people's commitment and love of knowledge. There are a large number primary secondary and middle schools, separate degree colleges for both boys and girls, and private schools around every corner.
Murree city houses some of the best elite educational institutes which includes  Lawrence college, Cadet College, Army Public School, Saint Dynes and Convent of Jesus and Marry. Lawrence college was built at Gora Gali in 1860 with the area of 150 acres. It provides education from class one to twelve (A\O level) and is popular among Pakistani upper class. Most of these institutes were built during the British period and are now serving the children of elite.