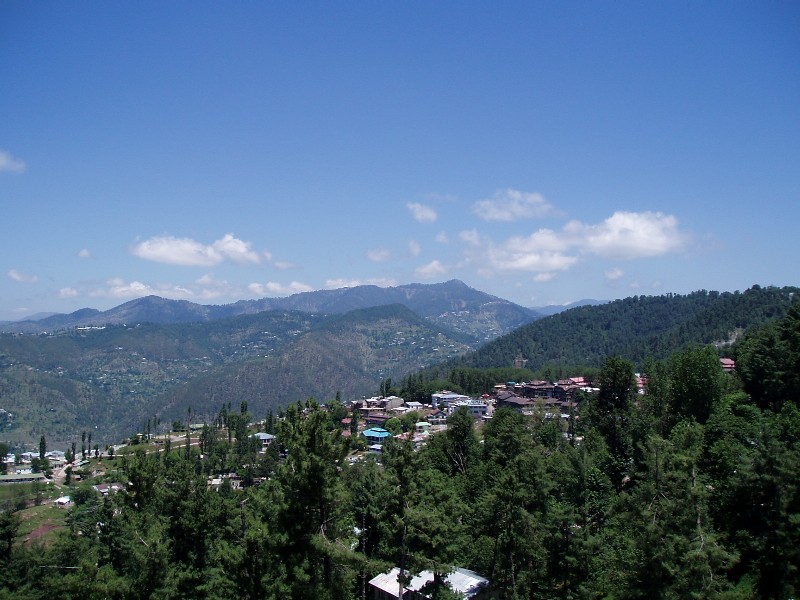 Pakistan's most popular hill station is Murree which lies 50 kilometers northeast of Pakistani capital Islamabad. It is mountainous area, forming part of outer Himalayas and it is located at a comfortable altitude of 7500 feet (2286 meters) in the Himalayan foothills at 33 54′ 30″ north latitude and 73 26 east longitude.  This area contains four major supers that are gradually increasing. Murree city itself is situated at highest among them and it is 7500 feet high. Remaining include Patriata, Kuldana and Gharial. River Jehlum has bounded it by in the east, NWFP districts of Abbottabad and Heripur to theNorth and West, Islamabad Capital Territory to the Southwest and Kotli Sattian Tehsil (town) of Rawalpindi district to the South.
Brief History
Murree was a town and it was built according to building frame of European cities with Church in the centre and main road, The Mall. Mall Road is running along with commercial places and administrative offices around the same. The Mall was and still is still the centre of attraction.  Only Europeans were allowed access to the Mall and after 1947, Non-European got access to The Mall.
Murree Sanitarium
It was initially known as US sanatorium and it was best and most popular convalescence area. It was selected because of its cool climate and it used to serve for British troops and was one of the several such hill stations established in the foothills of Himalayas across the Indian subcontinent. It was one of two important hill stations in the Punjab. The other one was Simla, which is known as Hamachal Pardesh state of India in present day. Murree was preferable because it was more accessible from the Punjab plains than Simla. That is why it served as summer capital of the province till after being replaced by Simla in 1875.
Origin of the Name
There are different theories exist about the origin of Murree's name. Marrhi is the local language in Murree. One theory says that Murree name has been derived from local Marrhi which means a ridge. There is another theory according to which it is derived from Turkish marg which means a meadow. It can be possible because there is considerable Turkish cultural influence in this area.
Turkish Influence in the language
There are number of words have been included in the local language from Turkish language. It Turkish Marq took centuries to become Mari. It were the incidentally the spellings and these were used by the British when they initially started contacting in this area. Spellings of Murree were adopted in 1875.
There is another explanation as well which is, Murree has been derived from the name of Hazrat Marriam, or Virgin Marry and it is also been said that she is buried at the Pindi Point. It is one of the highest places in surrounding areas.
There is no clear indication in the records that can explain its name before the occupation of British in 1946. There were Afghan and Sikh rule in this area and this area was referred with the name tribe inhabiting the same. Tehsil Murree was created in 1850, when hill tract was transferred which includes Murree as well as Hazara district to Rawalpindi district.
Land
British colonial government constructed Murre hill station in 1850. It was soon after when it captured this area. Murre is located between Kashmir Point and Pindi Point. Its location signifies its appearance as Kashmir point gives a panoramic view of snow laden Himalaya and Pir Panjal ranges in Kashmir. On the other side, Pindi Point represents its adjustments with national capital Islamabad and adjacent Rawalpindi. At Pindi Point one can enjoy ride on a Chairlift three kilometers down to Bansragalli and enjoy a panoramic view of Hazara Mountains as well as Rawalpindi Islamabad.
River Jehlum is located in the East of Tehsil Murree which separates it from Azad Kashmir. Abbottabad district is located in the North and North West of Murree, Islamabad, the national capital to the south west and sister tehsil Kotli Sattian of Rawalpindi district lies to the South.
Murree is consisted of 92 villages and these are divided in five areas or 'Ilakas. These  areas includes Phulgran, Charhan, Dewal, Kotli and Karor. Parts of the areas which were placed under the rule of Raja pf Muzaffarabad in 1831 along with Murree and Kahuta area including territory from Khanpur near Taxila in Haripur District to Boi on the confluence of Rivers Jehlum and Kunhar were however not retransferred to Rawalpindi. Instead these areas were merged into Hazara District. Sometimes later Pulgran was transferred to Rawalpindi Tehsil and now forms part of Islamabad Capital territory. In 1990s Kotli and some villages in then Karor ilaka were separated to form Kotli Sattian Tehsil. 
Climate
Murree's economy and whole life is very much dependent on its weather conditions. It has four distinguishable seasons in whole year.
Spring in Murree starts in March and ends in middle of May. Maximum temperature during this period hovers between twelve to twenty and minimum between four and ten. This season brings heavy rain and hail storms in this area. The fruit trees laden with flowers give a spectacular view.
Summer starts from middle of June and last till end of August.  The lowest temperature during this season is between 13 and 16 degree centigrade while highest temperature is between 20 and 25 degree centigrade. This is the best season in the area and that is most of the people visit this area during this season.
Autumn starts with the arrival of September and lasts till the starts of winter in early December. Temperatures remain mild in this season. Clear sky could be seen in the region during autumn when one can enjoy full view of mountains around without cloud hindrance.
Winter starts in December and normally brings heavy snowfall. Murree and its surrounding areas are covered with thick sheet of snow during most part of the season. Temperature mostly drifts around the freezing point.
People
Tehsil Murree has occupied total area of 434 sq kilometer and according to 1998 census has a population of 176426 people of which 155,051 live in the rural areas while others live in Murree city as well as different cantonments spreading over different hill tops.
Dhund (Abbasi) tribe has occupied most of the rural areas of Murree. This tribe has origins from Hazrat Abbas, uncle of Holy Prophet Muhammad (peace be Upon Him). Dhund (Abbasis) have considerable presence in all areas surrounding Murree. The tribe forms overwhelming majority of population in Deerkot in Azad Kashmir.  Pockets of Dhund majority areas are also found in districts of Mansehra, Islamabad and Rawalpindi, and Kahuta and Kotli Sattian Tehsils of Rawalpindi district.
There are some other tribes that are present in Tehsil Murree which  include Sattis, Kathwals and Danials inhabiting southern parts of the Tehsil. Sattis form overwhelming majority in Katli Satian Tahsill and some parts of Kahuta Tehsil of Rawalpindi district while some of the majority Danial populated areas have been merged into Islamabad capital Territory as well as Kotli Sattian Tehsil.
Other than these tribes, there is sufficient amount of people who belong to Gujar and Jat families as well. History says that these people and other artisan classes were tenants of local tribes. However, most of them have become owners of the lands they tilled after the land reforms of 1958 and in 1970s.
Urban areas are populated with people from all over the country and permanent people are very less in number. However, there is good numbers of refugees from Indian held part of Jammu and Kashmir are also living in these areas. There is very important compensation for these people and that is two members of Azad Jammu and Kashmir Legislative Assembly, one each representing refugees from Kashmir valley and Jammu respectively are wholly or partially elected from Murree.
Colors
Murree is full of bright colors. It is traditional identity for entire world. People mostly wear warm clothes with bright and dark colors because of its traditions and climate. As Murree is a cold place, bright colors help its people for surviving those conditions by absorbing the heat of the sun.
Language
Paharai is the vernacular spoken in the areas locally. It is quite different from the language of same name spoken in the southern slopes of Himalays in Hamachal Pradesh and other parts of Northern India. The language spoken in Murree is an amalgamation of Hindko, Potohari and Hinko languages which is spoken in Rawalpindi, Hazara and western and south western sides of Kashmir. Punjabi /Potohari are spoken in all the hilly areas of Rawalpindi district including Murree, Kahuta and Kotli Sattian with slight variations.
Customs and Traditions
As Murree is tourist attraction, the local tradition has changed a lot due to the outsiders coming in the city. The local community got a chance to interact with the outsiders, eventually sharing their culture with them as well.
As Murree is related to Hazara division, the local tradition is very much similar to theirs. The local tradition comprises of two main clans of Dhand, Chandia and Ratnia. Both the clans are descendants of two Rajput rulers. These rulers were descendants of Gahi, ruler of a tract around Delhi. These people refuse to eat with other Muhammadans. They do not even allow them to touch their cooking vessels. They retain Hindu customs at their weddings. Barat or procession, longing up to two to three days, is usually host by the father of Bride. They have also retained various other Hindu social observances as well. Polygamy is fairly common among these people and they rarely marry outside the tribe.
Social Organizations
People of Murree follow their traditions with strong will and emotions. People live within extended families and they respect the values of their fore fathers. They are socially tide within their tribes and strongly related to it. But some tribes do no promote the close interaction with other tribes.
Famous Foods
Unlike other cities in Pakistan, Muree in itself holds no famous dish. However, Murree is very famous for Apples all over the world. This fruit is very important for export purposes.
Being a tourist place, Murree has places for almost every kind of food, whether Desi or International. There are many restaurants along the The Mall. Some names are Al-mai-dah, Fuschia Restaurant, Red Onion Saffron, The Huqqa Pani Lounge (fruit flavored tobacco or sheesha) KFC, Pesahawr Namak Mandi Restaurant.
Local people prefer desi foods (Namkeen tikka and Karahai, chicken karahi and chicken makhani, mouthwatering barbeque dishes) but for the tourists, every kind of food is available to the leisure of their taste buds inclusive of English, Pakistani, and Italian -blend of continenta, orientall and local favorites.
Education and Literacy
According to the census of 1998, Murree is most literate areas in the country with the 69 percent literacy rate. Village Ausia having literacy of 82.7 percent in population of 4450 is among the most literate areas of Pakistan. There is no such area with this much high literacy rate in Pakistan. The credit for the same must go to people's love for knowledge as well as dedication of teachers.
School System
After the advent of the British rule in 1850, modern school system was introduced in Murree like other parts of Sub-continent. Primary Schools for boys were established in Murree, Ausia, Tret, Karor and Kotli Sattian initially. Currently, there is one degree college each for boys and girls each Murree and One Girls College has been constructed at Phagwari.
There are two higher secondary schools, at Ausia and Tanda, sixteen secondary schools, twelve middle and 112 primary schools for boys. There are 6 high schools, 15 middle and 109 primary schools for girls.  Besides these, there are number of private schools in Murree that are providing quality education.
There are also elitist educational institutions in Murree which are attracting students from across the country since independence.
Lawrence College Gora Gali
Saint Dynes and Convent of Jesus and Marry
Cadet College Lower Topa
Cadet College Murree Pindi Point
Army Public School Murree Christian School
Buildings and Tourist Attractions
There are various headquarters of 12th infantry division of Pakistan Army in Murree. Other than that there is large number of educational and training institutions of Pakistan Army. These institutions are located at Upper Topa, Kuldana and Barain. There is Combined Military Hospital (CMH) which is established for providing health facilities to the people of Murree and adjacent areas. Pakistan Air Force has its one of base in Lower Topa.
Military areas of Murree are divided into two cantonments for administrative purposes.
Murree Cantonment
Murree Hills Cantonment
Residence of Punjab Governor is also situated in Murree at the Kashmir Point. Its imposing building was built by British in 19th century.
Apart from these buildings, there are large numbers of institutions are also located in Murree which includes government, semi government and private departments and institutions maintain guest houses.
Galliat region is adjacent to Murree which is North West Frontier Province. This region includes Nathiagalli, Ayubia, Khanspur, Dunga Galli, Khairagalli and Changla Galli. Murree and Galiat have been part of same administrative unit including Rawalpindi District of Muzaffarabad before British rule. When British came to this region, they decided to divide them between Rawalpindi and Hazara in 1850.
However, Murree and Galliat are inseparable in terms of geographical locations, their cultural attributes and linguistically despite divided provincial boundaries. This side is equally acceptable from the point of view of the tourists. For hotels, hiking trails and important phone numbers and other information on Nathiagali and Galliat, Murree provides a gateway to the Galliat.
Chairlift is the most popular feature of Murree. It serves the visitors with exciting opportunities and provide them a life time experience of an elevated passenger ropeway over the mountains in environment friendly way.
New Murree Project
Punjab government has started to develop New Murree city at Patriata fifteen kilometers southeast of Murree. Patriata (New Murree) and Bhurban have developed as tourist centre. Lying at an altitude of 6000 ft, Bhurban is situated at a distance of 13 kilometers from Murree on one of main roads leading to Azad Kashmir. It has five star Pearl Continental Hotel (PC) which is Pakistan's best hotel chain.  There are 9 whole Golf course has cropped recently which would be another tourist attraction in Murree area.
This project would be possibly successful because of the potential of this area. The whole Murree Galliat region is known throughout South Asia for its scenic beauty and fascinating greenery. Mountains overhung with pines and oaks, bubbling with gurgling springs, crisscrossed by rivulets, dotted with sprawling lawns and orchards overloaded with fruits present spectacle of Paradise on earth.