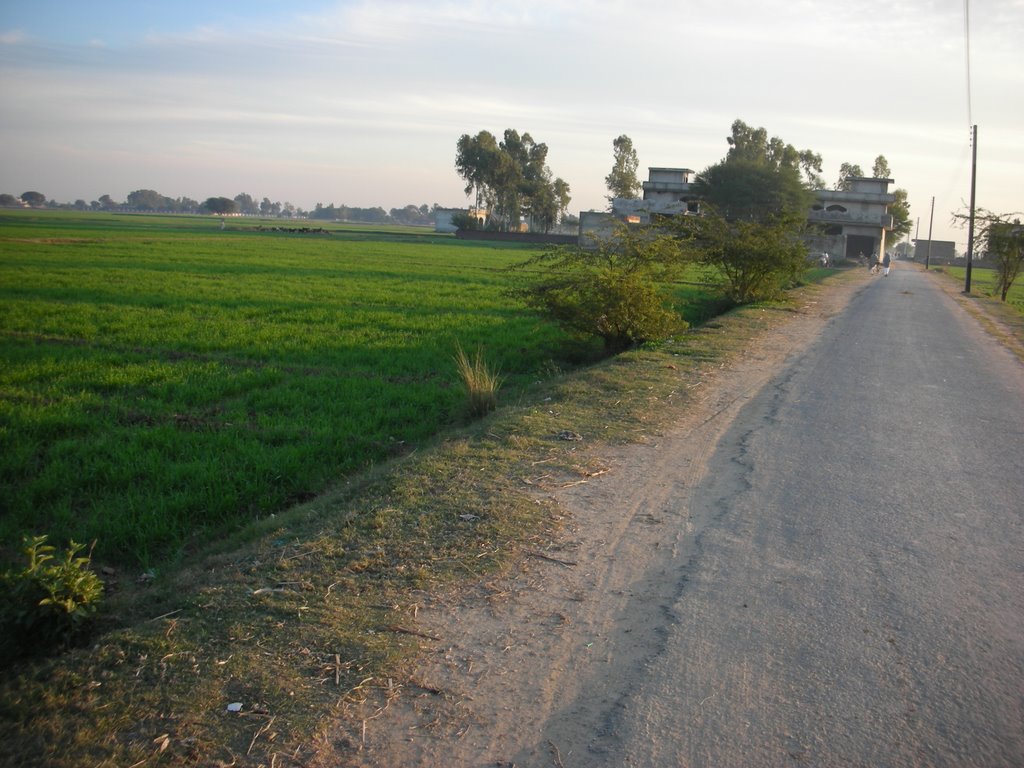 Situated 145km from Islamabad, Lalamusa is a small city of district Gujrat. The name of the town is based on a name of person "Musa" and the word "Lala" is of Punjabi origin meaning brother thus called Lalamusa (Brother Musa). The city before 1880 was called Lalamusa, but now it is known as Old (Purana) Lalamusa. Nearby cities are Gujrat and Kahrain and surrounding villages are Kotla Qasim, Khawas Pur Miana Chack and Budo Kalas. Although a small city of arund 200,000 people, Lalamusa encompasses all the important necessities and facilities of life. From having a railway station of historical significance to hospitals, schools and markets, this city has them all.
Historical Background
The construction of railway junction in 1880 by Britishers played a pivotal role in advancement of the city (at that time a small village). Before the construction of railway junction, Lalamusa was almost a deserted area but after the construction many English families got settled there. That is why there exists a small English graveyard in the town. After partition, a small number of Hindus and Sikhs migrated to Lalamusa and many small villages were merged with Lalamusa, thus giving it the status of city.
Famous Personalities
Lalamusa is known for producing most influential political personalities of Pakistan. The most famous name which comes to mind is the Ex-Information Minister and Ex-Governor of Gillgit Baltistan Qamar Zamaan Qaira. Chauhdary Fazal Elahi who was the president of Pakistan was belonged to a village called Marala situated In the Jurisdiction Of national Assembly 106 and 2km away from Lalamusa. Also Mian Muhammad Afzal Hayat who was the Chief Minister of Punjab also belonged from Lalamusa.
Not only Lalamusa is known for producing most influential political personalities, it is also responsible for producing the most beautiful voices of music industry in Pakistan. Alam Lohar, a highly acclaimed Folk singer of Pakistan was also born in Lalamusa. He is known for singing Waris Shah's Heers. His son Arif Lohar is also from Lalamusa who followed the footsteps of his father also become a highly successful singer.
When it comes to Journalism, Lalamusa is known for producing one of the most respected and top notch journalist of Pakistan Javed Chaudhry. He is known for his infamous column "Zero Point "which influenced masses and it is (according to a survey) the most read column in newspapers of Pakistan.
People
People of Lalamusa are of very hospitable nature and live a simple life. Most people residing in Lalamusa are from lower middle class. People of Lalamusa in most cases have small self owned businesses or do manual labor. Land of Lalamusa is fertile and many people are also linked with agriculture sector as well. Also there are many people from Lalamusa who have settled in Europe and Middle East and contributing a good share in foreign remittance.
Food                        
When it comes to exquisite dishes and food items, there is no Parallel to the city of Lalamusa. Lalamusa's Samoosa is known for its spicy and excellent taste. The barfi of Noona Halwai is most famous in Pakistan and near Lalamusa Daal of Mian-G Resturant is also a delicious dish to taste.
Clothes
Commonly worn attire is shalwaar qameez. The elderly people still prefers to wear shalwaar qameez however the younger generation now prefers to wear pant shirt as well. However most of the female population wears shalwaar qameez and wearing jeans is not encouraged there.
Festivals
In Lala Musa various celebrate festivals are celebrated throughout the year including Reaping of Crops is celebrated in which people celebrate because they will reap the rewards of hard work. In this festival various activities are done including, naiza baazi, horse ridding, dog fights and Rooster fights to entertain the masses.
Sports
Cricket is the most commonly played sports in Lalamusa. Football is also a popular sport in Lalamusa but unfortunately there are lack of sporting facilities because of which youth have been forced to play in streets and school/college grounds. However few initiatives have been taken to improve upon the situation and cricket clubs have been established including Riaz Cricket Club and Lalamusa cricket club. Bodybuilding is another popular sporting activity and there are many GYMs in Lalamusa both for males and females alike. Currently there are two champions from Lalamusa of annual body building competition called "Mr.Pakistan" in which bodybuilders from all over Pakistan participate.
Education
Unfortunately, educational facilities in LalaMusa are insufficient. There are only two government and 3 private colleges and because of very few colleges, students pursue their college education in neighboring cities i.e. Gujrat and Kharian. However the encouraging thing is that there are sufficient number of schools in LalaMusa including both private and government schools. When it comes to university education, there is not a single university established in Lalamusa and consequently most people pursue their education till Marticularation and engage themselves in carpenting and other manual laboring activities. The people who want to pursue higher education leave the town to Islamabad or Lahore.
Market access
Situated near many villages the city of Lalamusa act as a central market for villagers living near the city. Villagers sell their crops in that wholesale market situated in center of the city. Furthermore despite there are wholesale markets in Gujrat and Kharian, people of nearby villages prefer to go to wholesale market of Lalamusa because of its easy accessibility.
As far as Retail Market is concerned, there is a main market in city where locals do shopping of the daily life products. The retail market includes every type of shop, from bakeries to electronic shops the market has every customer to cater.
Religious Harmony
As mentioned before, Hindus are Sikhs also used to live in Lalamusa before partition, however now there are considered as minority. Despite being a minority, there is religious freedom for them in the city. Currently there is a church and a temple in the town where minorities (Christians and Hindus) freely practice their religion. This is an interesting fact that despite Muslim majority in Lalamusa has strong emotional bond with their religion, the minorities have been given complete freedom to practice their religion and they are treated as equal citizens.
Healthcare Facilities
As far as healthcare facilities are concerned, they are sufficient to fulfill the needs of citizens. There is a Civil Hospital in the city where top of the line medical facilities are provided. Also there are many small private hospitals namely, Abdullah Hospital, Anwar Hospital and Niazi Hospital and sufficient number of medical stores.