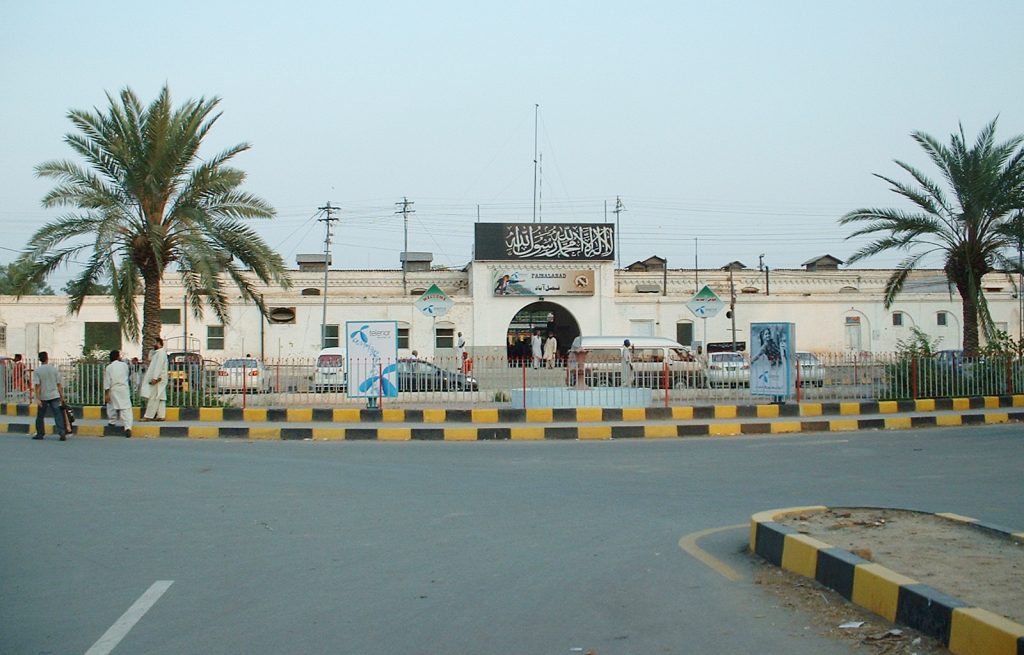 Culture represents the behavioral patterns of a society that includes arts, traditions and beliefs. The norms and rituals that determine a culture are exclusive to a particular society and they differentiate one society from another. Therefore, people hold these traditions and values dear to their hearts as these depict who they really are and where their roots belong. Pakistan enjoys a rich culture and a great diversity is observed as we move from the lofty mountains of the North to the plains of Punjab, from the ocean of Sindh to the hills of Baluchistan. Here we take into account the culture of Faisalabad, the second biggest metropolitan city of Pakistan. The culture of Faisalabad is quite diverse because it is an industrial city and people from all over Pakistan come to work here, few component of Faisalabad culture are as follow:
Language:
The majority of people in Faisalabad spoke Punjabi language. But Faisalabad being second biggest and in center of Punjab province has great variety of Punjabi dialects spoken by different district's people living in the city. The other languages such as Urdu being national language is spoken and understood. English is also understood and spoken by the sizable educated people.
Food:
Faisalabad is famous for its food. The most common snack item samosas of Faisalabad are considered the best in Pakistan. A special place is dedicated to them, named Samosa Chock. These samosas are different from any others because here you can get a wide variety of chatani along with them. Another food item that is also considered specialty of Faisalabad is dahi bhale.
The gol gappe available here are also really tasty. A number of gol gappay carts can be found around the city. Biryani and pulao are also very well-known. Moreover no city can boast of a better Dal Chawal serving than Faisalabad. It's one of the favorite foods here; popular outlets are located near Ghanta Ghar. The parathas available at Ghanta Ghar are very famous and a large crowd comes to attend all night long. They come in different fillings such as potatoes, mixed vegetable, chicken etc. English and continental foods are also easily available in Faisalabad. People can access McDonald's, KFC, Samarkend, Pizza Hut, Dynasty, Lasania, Exotica Cafe, Hameed's, Lahore Chatkhara, Hawali restaurant, and some other fast food restaurants any time. Barbeque and Chinese food are also hot favorite here. The best Chinese restaurants are Qulim, Exotica Cafe, Pearl Garden and China City.
As far as drinks are concern Rabri, Sugar cane rusk, limo pani and lassi are the most favorite drink of the people of Faisalabad. Nirala sweets are also liked by masses in the city.
Clothes/Dress:
Faisalabad is well recognized for its cloth and related items throughout the world. It is the best market to buy home furnishings (bed sheets, curtains, towels etc.), personal clothing, and hosiery wear.
The Punjabi dresses are considered as the traditional clothes of Faisalabad. Punjabi dress for men comprises Pagri, Kurta and dhoti. Punjabi women wear Shalwar Kameez and Dupatta. Traditional Lacha and Bangles and Paranda are also used. Moreover all of these Punjabi women dress items can be embroidered to add more to grace and beauty of clothing. But with the passage of time Faisalabad women has started to adapt new styles, some of which are the combination of Pakistani and western clothing. Like women wear embroidered kurta with jeans and trousers. Tight half sleeve and sleeveless shirts with Capri trousers have also been adopted. On the other hand modern Faisalabad men have also adopted western dressing style and are often seen wearing t-shirts, trouser, dress pants, jeans and others.
Arts and Recreation:
There are lots of recreational places found all around Faisalabad which are a source of attraction for visitors and native people. The Faisalabad clock tower is famous over the world and is one of the oldest monuments still standing in its original form since British rule. It was constructed in a special way by placing the clock at the center of the eight markets which, from the top it looks like the Union Jack flag of the United Kingdom. Each of the eight bazaars is given a special name which is as follow:
Katchery Bazaar is famous as its name shows because of court (Katchery) situated opposite to it.
Rail Bazar is famous for gold and cloth market.
Bhawana Bazaar is famous for electronics.
Jhang Bazaar is famous for fish, meat, vegetables and fruits.
Aminpur Bazaar is famous for stationary stuff and interior décor.
Kharkhana Bazar is famous for herbal medicines.
All kind of dry fruit, and wholesale soap, oil, ghee shops are situated in Gol bazaar.
Chiniot Bazaar is famous for homeopathic medicinal stores, cloth, blankets, sofa cloth, curtains. Poultry feed wholesale shops are also there in Chiniot Bazar.
Mintgumry Bazaar is famous for yawn merchandizing and raw cloth trading. It is also known as Suter Mandi.
It is worth visiting the eight bazaars of Faisalabad as high quality of different things are available here and it is the home-ground for all the wholesale dealers of various goods. Tourists are especially welcome here and would always find great bargains.
Other recreational spots includes Happy Land Water Park which is an international level park built as a complete entertainment center for families and contains biggest water slides in Pakistan. It is also equipped with amazing swings for both children and adults. Rex City is a big computer market where once can find computer sales and service shop easily. Jinnah Garden is also a beautiful park in the city commonly known as "Company Bagh". The tomb of H.E Sir Charles James Lyall is situated here. He was the founder of this city and in his honor the city was first named Lyall Pur. Moreover Am Tex Waterfall is located at Am Tex Squire which is the biggest artificial waterfall in Asia. Canal Park located at the west bank of Rakh Branch Canal is also a good outing place for families. The majestic Chenab Club standing in the shades of trees and complemented by vast lush green lawns, is located in the beautiful surroundings of "Jinnah Garden" is great attraction. Lyallpur Museum is also worth seeing as it not only a heritage museum but contains an art gallery too. The gallery provides memory of the ancient and modern culture of Faisalabad.
Literature:
Faisalabad has always been a hub of literature. Renowned poets and prose writers belong to this city. Sahir Ludhianwi, the great poet of the sub-continent, belongs to Faisalabad. The other important writers are Afzal Ahsan Randhawa, Shehzada Hassan, Adeem Hashmi, Riaz Majeed and Dr. Waheed Ahmed.
Music:
Nusrat Fateh Ali Khan, the famous singer and musician was born in this city. The people enjoy all types of music and throughout the years concerts and musical night are arranged where different artist perform to amuse the people.
Education:
Faisalabad has the distinction of being a seat of world famous Agricultural University and equally renowned Agricultural Ayub Research Institute beside the Punjab Medical College there are several other colleges like Commerce College, Textile College, Superior Science College, Poly Technical College and others. The population of Faisalabad has a literacy rate of approximately 58%, with a split of 60% for males and 56% for females.
Sports:
Cricket is the most popular sport in the Faisalabad. It is played in the narrow by-lanes of the city and night-time cricket can be seen at weekends. The oldest and only venue for international cricket matches is Iqbal Stadium which hosted 1987 and 1996 Cricket world cup. The Faisalabad Wolves, Faisalabad's local team, are based at this venue and often regional matches are played which draws in plenty of crowds such as Twenty-20 Cup.
Other popular sports in the city are hockey, weightlifting, association football, kabaddi, table tennis, billiards and snooker, squash, and horse racing. Sports like badminton, volleyball and basketball have also started to gain popularity as western influences have affected the locals. The city also has facilities for hockey such as the Faisalabad Hockey Stadium on Susan Road which mostly hosts field hockey matches.
Media:
The Daily Express is the only national newspaper published from Faisalabad. Moreover cinemas have fallen in number in the city now it has twenty-four cinemas, which provides an entertainment to its residents by showing Urdu, Punjabi and English movies. The radio industry has expanded with a number of private and government-owned FM channels being introduced such as the government-owned radio Pakistan, FM 101, Mast FM103, FM 90 Hum Awaz, and City FM 89. There also a number of private television channels that have offices in Faisalabad including Express, Geo TV, Apna Channel and Punjab TV.
Conclusion:
Faisalabad, with its affluent culture and cheerful manifestations welcomes all to visit the Manchester of Pakistan and praise the beauty that resides in it as well as its people.