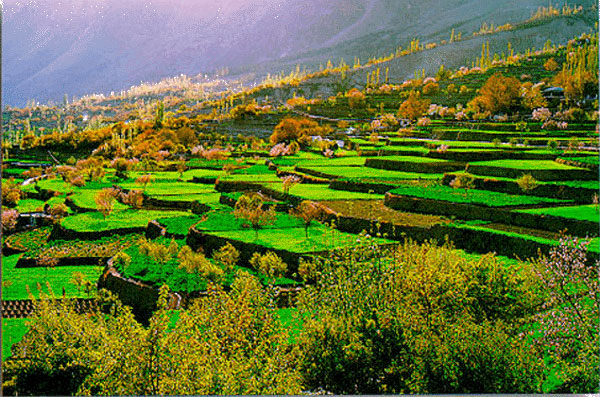 Situated at the northwest of Hunza river at an altitude of 3000 feet (2440 meters above sea level) lays the valley of Hunza. In Pakistan this valley is known as the heaven on earth but it is pronounced by many writers as "land of peace".
History and Location:
Hunza previously was a princely state sharing its borders with China in the northeast and Pamir to the northwest until 1972 when it was dissolved by Zulfiqar Ali Bhutto. On south it bordered Gilgit agency while shared its borders with former princely state of Nagar on the east. State capital of Gilgit was a town of Baltit (also known as Karimabad). It was an independent principality for a period of more than 900 years.
Climate
Main tourist season is during May to October. During this time of the year the minimum temperature is 14 degree Celsius and maximum is 27. But being located in the northern region it is considered as one of the coldest regions of Pakistan.
Food
Hunza valley if famous for its bounty orchards that have high quality mulberry, beyond these plums, apricots, peaches, apples, pears, grapes and black and red cherries are other fruits that are grown widely in the area. Along with this people also cultivate maize, peas, wheat and vegetables. Apricots are known as Hunza gold; of all their organically grown food their favorite and one of their dietary mainstays is apricot. Their orchards are seen everywhere throughout Hunza. They are so important that a family's financial stability is measured by the count of apricot trees they have under cultivation.
Ruling Family
In Hunza there are royal families. The ruling family of Hunza is called Ayeshe (heavenly) while the ruling person is known as the Mir of Hunza. The current Mir of Hunza is Mir Mohammad Ghazanfar Ali Khan.
People
Most of the people of Hunza follow His Highness Prince Karim Aga Khan the fourth while they belong to the Ismaili Shia sect of Islam while in Ganish village more than 90% are Shia Muslims. The people are known for their friendliness and hospitality. People of Hunza are every conservative about conserving the natural environment and after the tourism season is over special campaigns are held to clean the land.
Hunza region is basically home to three ethnicities. Land from Khizerabad to Nasirabad which constitutes of lower Hunza is populated by Shinaki people who speak Shina. While people living in central Hunza- area included between Murtazaabad and Attabad – are Burushaski (usually known as Brusho) speakers and people living in Gojal the upper Hunza that includes land from Shiskat to Khunjerab mainly speak Wakhi.
Clothes
People wear traditional dresses in Hunza. Embroidery and stitching is very common. Work of glass is very prominent in ladies clothes. Women wear colorful shirts that are of knee length along with shalwars and they cover their heads with embroidered caps. The men wear shalwar kameez and caps that are made of hand woven woolen material known as 'pattu'. While in winters the men wear loose gowns as overcoats.
Education
The people of Hunza are more educated than people belonging to any other part of Pakistan. The literacy rate of the area is more than 90% and most of the youth of that area go abroad for higher studies. Hunza has been called as the "role model" for Pakistan because of the high literacy rate and school enrolment statistics. Virtually every child of Hunza nowadays is educated up to at least high school level.
Language
The language of Hunza is a mix of Pashtu, Balti, Wakhi, English, Persian, Chinese and languages of Central Asian States. Mostly Brusho is spoken in Hunza with little difference of some words while Shina is spoken in lower Hunza and Wakhi is spoken in upper Hunza. But most of the people can speak and understand Urdu.
Health
People of Hunza are uniquely healthy and free of diseases and are supposed of the longest lifespan. After many studies it is believed that the cause of their health is the simple and healthy diet of carefully grown organic food and the use of fresh glacial, living water. People of Hunza use the water from glacial streams in the upper Himalayas which is characterized as life enhancing, invigorating, fresh, delicious and free of radical scavenging. People of Hunza can have a life of 120-140 years and they don't suffer from any type of lethal and degenerative diseases like cancer and bone decay and are able to bear children even in old age. Through research it has been concluded that the major reason of their disease free long life is the use of their local water.
Sports
People living in Hunza are very lively and play a lot of games especially Polo. Apart from this the tourists visiting the area are provided with exciting sports due to the geographical location of the place. The place offers sports like hiking, fishing, rock climbing, white water rafting, cycling, polo and skiing. People also enjoy the traditional dances of the local community of Hunza.
Events and Festivals:
Hunza has a very rich culture that includes a lot of different events and festivals. Some of which include Ghani festival which is celebrated when the crop is ready to harvest that is from 21st to 25th of June.
Silk route festival that is celebrated to acknowledge the revival of silk route and contains stalls that include local and foreign items
Nowroz is celebrated by the Shia and Ismaili community of Hunza in which new dresses are worn and traditional food is prepared. Its history is traced back to Iran and is celebrated on 21st march.
Bofow has been celebrated since Mir's time and starts with the sowing of the field from a person of Diramiting tribe. People gathered at the Mir's darbar and ate food and danced on songs.
Thomoshalling is linked to the death of a cruel ruler Shiri Badat who was thrown to fire. It is celebrated in November.
Oodi is celebrated in May in Hunza and people take their livestock to summer pastures to celebrate this event. In Biltistan this event is known as Braqkher and is celebrated in June.
Gurukus is celebrated in Hunza before Bofow and after Thomoshalling to welcome spring season.
Didar Mubarak is celebrated when spiritual leader of the Ismaili community visits his followers in any part of the world.
Tourism
Hunza is considered as a favorite place for tourism. People all around the world visit Hunza for reasons like beauty, sports and to enjoy festivals. Karimabad is tourist destination hub. Altit and Baltit fort are also placed in Karimabad. It is one of the major contributors of tourist revenue for the country.
Attabad Lake
Attabad Lake was created in January 2010 as a result of a landslide. This lake killed 20 people and blocked the passage of Hunza River for five months. As a result 6000 people were displaced and stranded a further 25000. It was one of the worst natural calamities attracting the attention of local as well as international communities but the people of Hunza faced this difficult time with patience.
The above discussion can be summarized n following few words. Hunza is one of the exotic beauties of nature and the home of most educated and hospitable people. Its role in earning the foreign reserves for the country as a result of the tourism cannot be neglected.