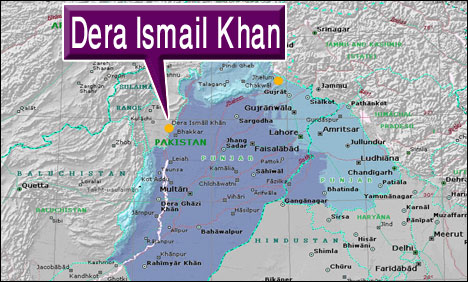 Dera Ismail Khan often called D.I.Khan, is a city located in Khyber Pakhtun Khuwa at the bank of Indus river. It is also the capital of the Tehsil named D.I.Khan. Founded in the end of 15th century by Sardar Ismail khan Baloch who them named the city after himself. People of dera ismail khan have major contributions in the independence of Pakistan. They are courageous, warm and hospitable.
Agriculture
Dera Ismail Khan is a huge city when it comes to plain land available for farming. People here are mostly farmers as the land is very fertile for certain crops such as Wheat and Sugarcane. Moreover, fruit production is remarkable like Dates, oranges and melons. Dhakki Dates are exported to Middle East and USA. Kulachi melons are in high demand in the world but lack of infrastructure and transportation issues have made it almost impossible to export such perishables over long routes.  People over here are greatly dependent on agriculture production: their marriages, their house construction plans, their celebrations (eids) and even their moods and behaviors are closely connected to their agricultural income and outputs. The completion of chashma right bank canal has boosted the agricultural output. However, Floods of 2011 have given a major setback to the farmers here as large patches of land were washed away by the water.
Goat farming and cattle rearing also generate major cash flows for the inhabitants here. Milk production is comparatively higher here than in other cities of KPK. Same is the story of wheat production; we have one of the highest yielding areas of wheat in D.I.Khan.  People are strong and resistant to harsh weathers therefore their professions are in accordance to their habitat. Summers go scorching up to 51 degree Celsius and winters can freeze as low as -2!
Language
Saraiki is the native language of Dera Ismail Khan. But there are other languages like Pashto and Hindko spoken fluently over here.  Officially Urdu and English both are used i.e. in courts and hospitals. This area is the confluence of pashtoon and balochi tribes. So a little bit of balochi is also spoken and understood here.
Dress
There is no specific regional dress. Shalwar kameez is used by both men and women. Starched cottons in pastel colors are in vogue and mostly big land lords wear them.  Aged men and women also use dhoti instead of shalwar.  Men usually put on chaddars in winter instead of jackets or coats. And in summers, waist coats are preferably worn on cotton kameez.  As for as the minorities living here are concerned; pawandas (tribe of pakhtoons) wear colorful embellished frocks with dupattas covering their heads. Their men put on turbans on their head and wear shalwar kameez.
Festivals
Every festival is celebrated with full zeal and zest until interrupted by any terrorist activity! Both eids are greeted with full religious fervor and people visit their relatives and neighbors after the eid prayers.
The day of 14th august is celebrated as another eid over here. The river side is laden with pickups and qingchis (local transport) of people coming from far off areas to enjoy the famous pulao and qulfi ( local ice-cream). Houses are decorated with small flags and candles are lit to remember the day of independence.
Marriages are of special importance here, to both the families. Dowry, a cursed custom but still very popular here. The bride's dowry is put on display and people specially come to see how much the poor parents have poured in for the groom! The mehndi is not set up on that huge scale as it is in our big cities but the nikkah and walima are quite big a celebration. The most important part of the elite's weddings here is the mausiqi event (singing programme). Local singers are called in and the occasion goes on all night. The events of weddings are separate for males and females and bride and groom are also attended separately.
Not even a cricket match can hold such an audience as does the cultural show held in ratta kulachi stadium does. Sometimes it is the Mela Aspaan and sometimes a full cultural show. The festival embodies the very culture of city and holidays are also announced by the district government. It is as long as three days some times less. People from far off places swarm in to watch the catchy events at the festival.
Historical Places
It's an old city. Many historical sites are found in the city: old bazaars, ancient settlements and graveyards. Moreover, Rehman Dheri is a Pre Harrapan site located near the city. It is the oldest site found almost in 4000 BC. Pottery and other tools were also found in it. I could not find any picture of it to give a better understanding of the site. It is seldom visited by archaeology lovers.
Cusines
Dera ismail khan has many of its famous foods which are liked by the outsiders even. To mention a few are sohan halwa, sobat, thadayi, pulao and zarda. In the month of ramazan, sobat is the main course in almost every house here. Moreover, it is a dish of gatherings; it is made when people get together for any picnic or party. Sohan halwa is presented as a souvenir to the visitors here and people take it as gift when visiting other cities.
Conclusion
My city, Dera Ismail Khan is a very beautiful, culture rich area of Khyber Pakhtoonkhuwa. I grew up here and I have the best of my memories patched to this city.  In our local language we call it Dera phullan da Sehra (Dera is floral veil). In the recent year, shai sunni riots has made my city unpopular in the eyes of others, but I know this is a conspiracy. People of my city are peace lovers and they are very much disturbed by these problems. Business is at halt and celebrations are haunted by the fear of any blast or target killing. Law and order situation is not good at all. All we can do is pray for good times to return.