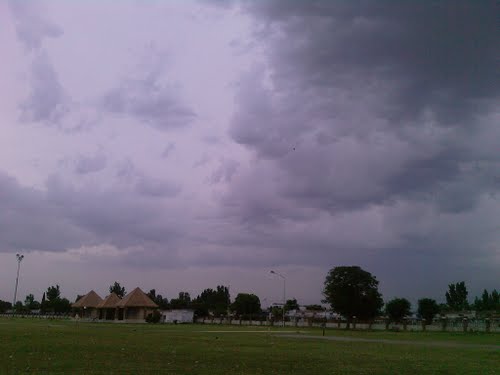 It is said that Jahangir's army was coming back from Kashmir mission, it was evening time, and they were tired and looking for a place to stay. They started to search an appropriate place among Barren Mountains. After a little search they were successful to find a place, where there was natural source of water. When the Mughal King watched the natural spring, he loudly said "Wah". His words were as it is jotted down on the stones of history. After that day, this place is called Wah.
Geography
Wah is situated between the historically rich places like Taxila and Hasanabdal. The biggest advantage to the people living in Wah is that they can go to places like Islamabad, Peshawar, Abbotabad in less time as compared to the people living in other major cities of Pakistan.
Educational background
It is said that if you want a country to prosper make education free or easy to access for everybody in the county and in Wah cantt it has the highest literacy rate in Pakistan approximately 99%. From rich to an employer, everybody's child is studying. Especially girls are very much encouraged to study and they are producing very good results. It is said that a great nation is always made by great mothers. And if our girls will educate only then they will produce leaders. There are 3 universities, one medical college and many secondary colleges and schools in the town. The renowned names are:
1. COMSATS
2. Wah medical college
3. University of Wah
4. F.G colleges
4. Punjab group of colleges
5. ROOTS school
6. Beacon- house school
7. LGS
And many other renowned institutes for skill development both for men and women are in the town available at very less fees.
Peace, Greenery, Safety
Wah is even called small Islamabad, due to its ideal location and abundant natural resources.
When you enter in Wah you always feel a cooling and soothing effect to your eyes. The mall road is of very good quality and carpeted as well. The beauty of this place is that where ever you see its greenery everywhere. There is no hustle bustle in the area in spite of the fact that the population is increasing very rapidly. Wah cantt is a very safe place to live in as there is battalionand many police stations in this small area which makes it easy to control the law and order situation.
All luxuries you want in a  dream place
It is no doubt a dream place to live in as every one wishes to live in a place which is neat clean , full of facilities that there is almost no load shedding , places to eat , study and parks to play for the age group of every person. Moreover the educated people have manners and that is the most important factor for community to prosper. There are a lot of Masajid's but the main hub is JAMIA MASJID:
The people are very religious .As the majority is of hardworking people here who earn to live their livelihood so they are proud that they do hard work and don't beg and ask for money from others. The problem which whole Pakistan is facing is shortage to access of pure water but Alhamdulillah we have a lot of sweet water. There is load shedding of only 2 hours in the morning which is very less and bearable as well.
Transport System
As mentioned earlier that Wah Cant comes under the influence of P.O.F (Pakistan ordinance factories), so all the matters are handled by its management. Its management comprises of both army and civilian. Transportation always plays an important role in the development of any sector and P.O.F knows this thing better so it has emphasized very much on the transport. There are busses, coasters and carry cars for passengers to travel from one stop to another. There are special packages for students and the employees of P.O.F as well.
POF influence on society and activities
There are many activities which it organizes for its employers. Following are the assets of P.O.F for the benefit of its employers.
Ordinance club
Golf club,
Shooting club
P.O.F hotel
Squash complex
Central library
Welfare club
These clubs are owned and governed by it. In ordinance club there are many facilities like swimming pool, gym, long tennis, table tennis, card room and a small library as well. Golf club is made of international level. There had been national and international events in the past.
Good investment opportunity
Wah is a fast growing market. Hence it has a very strong potential of investment as well. There are many shopping plazas under construction and many are made. Following are the big names currently doing very good business:
Rahat
Domino pizza
Chicken hut
Club 69
Pizza club
Italian pizza hut
Kayani
Kentucky chicken
Medication:
There are many private clinics and hospitals; government dispensaries and hospitals in the Cantt.
Free medical treatment is done in government dispensaries and hospitals. The main hospital also known as P.O.F HOSPITAL is equipped with all the latest technology and machinery. Treatment of its employees is totally free.